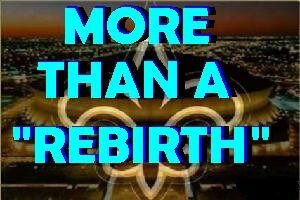 Saints win is more than a "rebirth" By Nick Peruffo
For anyone who has spent any amount of time in New Orleans recently, it's easy to become a bit jaded by the national media's insistence that the Saints Super Bowl victory is somehow magically leading to the city's "rebirth" and that it "gave the city back its pride." One can't help but get the impression […]
[continue reading...]
Recent Posts
A Mild Mardi Gras
Continue to Hope
Campus Question – 02.26.2010
Leave Tiger Alone!
Letters to the Editor – 02.23.2010
Pallin's Problems
Harbinger Harry – 02.26.2010
The Plight of our Workers
The Ethics of Gossip
Submit your story ideas!
Here is a chance to give us your story ideas.
Add News

Baseball drops first series to Boston College
The Tulane Green Wave opened their baseball season with a three-game weekend series against Boston College. A young Tulane team ...

Endowment value drops
The struggling economy took a disastrous toll on donors' wallets in 2009, resulting in a sharp decrease in private donations ...

Valentine's Day – Hearts and Leisure
Valentine's Day in New Orleans: What to do, where to go ... click here Fleshlight sex toy review ... click here "Valentine's ...

Sociology of Seduction
Seduction is an often-overlooked component of social status. It's usually — and wrongly — reduced to conversations about sex and ...